Windows 10 came with an interesting default settings after its 2019 update. Automatic deletion of recycle bin is one of such features. Storage Sense is a default feature added in Windows 10 to manage all the storage settings. One of the features of Storage sense is that, it automatically deletes the files that are lying in recycle bin for more than 30 days by default.
In general, this is a useful feature as you always need free disk space and by default windows does your job by automatically removing unwanted files. However, you might have a habit of storing files in recycle bin. In such case, you can stop windows from automatically deleting files from bin.
Stop Automatic Deletion of Recycle Bin in Window 10:
Open "Settings App" (Short cut Key: Windows+I) —->System —–> Storage
Under Storage, you see two main options.

1. ON & OFF , 2. Configure Storage Sense or Run it now  
Image Source: Howtogeek
If you don't want storage sense to run anything automatically, you can flip the switch to "OFF" mode. It makes Storage sense to function only on your command.
If you want to further configure storage sense, click on "Configure Storage Sense or Run it now". It opens a New Window.

(Note: "Run Storage Sense" gives options for you to have control on, when you want Windows 10 to run Storage Sense to remove files from bin i.e., Every day, week or month.  In general, it has "During low free disk space" as default. You don't have to change anything under this)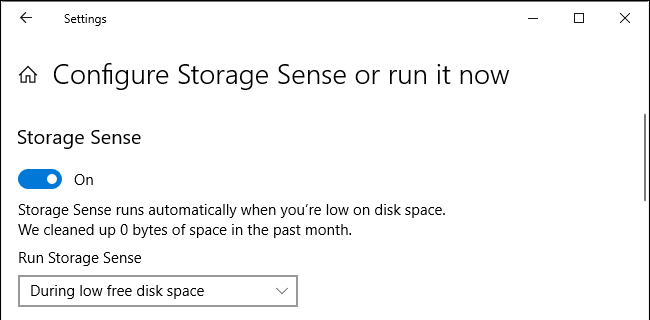 Scroll down to "Temporary files" —-> "Delete files in my recycle bin if they have been there for over"  ——> Choose "Never" (By default, it empties bin for every 30 days)

"Delete files in my Downloads folder if they have been there for over" is "Never" by default. If you want to change, you can.
Bottom Line
You never know what files you might need. If you leave windows 10 to run storage sense by default, it removes every file in your recycle bin for every 30 days. If you're very good at organizing your files, then automatic deletion reduces your work load and your PC is always clean. But if you're not, you might be in trouble recovering the deleted files. Hence,
Let's Control Which Can Be Controlled
Also Read: Schedule Recycle Bin To Empty Itself