Discover how to recover photos in Google Photos in a simple and intuitive way to avoid losing forever those images that we delete by mistake.
It has happened to all of us: we delete more than the account and then we wonder how to recover photos in Google Photos. If this is your case and you have accidentally deleted a photograph or video from your application, there is a possibility of recovering it and having it back on your mobile.
To be able to recover your photos in Google Photos, access the application and press the menu that you will find in the upper left part of your screen. Among all the options that will appear, go to 'Trash', and it will take you to a new page where you can see all the items that you have recently deleted. Select those you want to recover and you just have to click on 'Restore' (bottom right) to return them to their original location.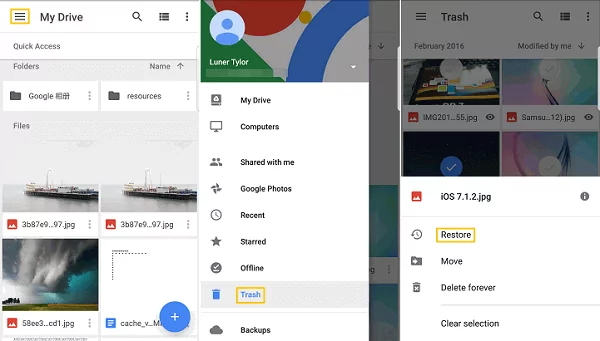 It is important to note that deleted photos and videos are only in the trash for a maximum of 60 days. This means that if it has been more than two months since you have realized that you mistakenly sent a photo to the trash, Google will have already done its homework by deleting it from there as well. If you can't find the item you were looking for, it may already be impossible to retrieve it.
Google Photos Backup
There are also many users who need to know how to recover Google Photos backup. This function is very useful to be able to free up space on the mobile phone from time to time, but sometimes it is assumed that it is activated and we delete photos without checking. To make sure it is recovered and that it is working, we will have to open the menu with the icon of the three stripes and access 'Settings'.
Next, click on 'Backup and synchronization', the first option on the menu, and there we will have to make sure that the 'Create backup and synchronization' tab is activated. If on the main screen we see that there is an icon with a gray cloud and a tick, it will mean that the backup has been made and that we can free up space if necessary, because our photos and videos will already be saved in Google Photos.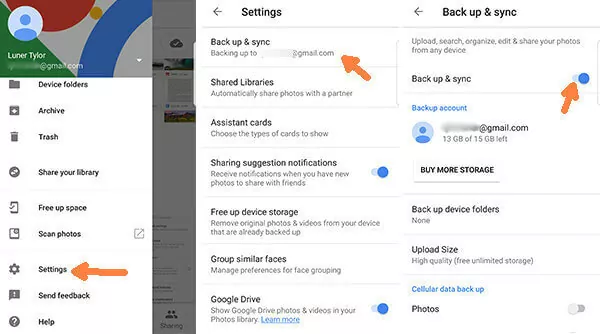 By default, Google Photos makes a backup copy of everything you photograph or record with your camera. If you want it to also make copies of other application folders (WhatsApp, Instagram, etc.), in 'Backup and synchronization' there is an option called 'Backup of device folders'. Access and activate those that you want to also be saved in your Google Photos account.
Google Photos Search Engine
In order not to get lost in a sea of ​​photographs, the Google Photos search engine is a very interesting and rarely used tool. It is normal that we do not change the file name of each photo we take with our mobile, but we can narrow the search by months to see all those that were made in that specific period. The search engine, as usual, is the bar at the top of the screen.
In addition, the search engine also allows us to categorize our multimedia files, filtering by videos, selfies, movies, animations, collages, creations, scans or photos with movement. In general, the average user will only need to filter by photos, selfies and videos, but it is good to know the full potential of the applications we have. We never know when we may need to make use of them.