Eggs are rich in first class protein and is a much-loved food. You can eat one egg in your breakfast and it can keep you full for longer. Egg recipes are countless and there is no one who doesn't like them with there is a twist. They are very simple and easy to make yet very delicious. If you are short of time, hungry and want to eat something delicious, we prefer to have an omlette, a french toast, half-boiled etc. Here is another Egg recipe with a veggie twist. If you are the one who like to have lot of veggies in your breakfast or lunch, this recipes is for you.  You don't have to be a pro to prepare this. All it takes is 10 mins of your time. Let's make an omlette with goodness of veggies.
Serves 1 | Prep Time: 5 Mins | Cook Time: 5 Mins | Total Time: 10 Mins
Omlette with goodness of Veggies Prep Process
Ingredients
3 Eggs
Onion-1
Medium Sized Capsicum-1
Carrot-1
Green Chilly-1
Half spoon Cumin Seeds
Half spoon Red chilly flakes (Optional)
2 spoons grated fresh Coconut Powder (Optional)
10 Curry Leaves
1/4 cup finely chopped Cilantro
Salt  & Pepper to Taste
Oil/Butter (Preferably Fresh Coconut/Olive/Sesame Seed Oil)
Preparation:
Finely chop Onions, Carrot, Capsicum (Deseeded), green chilly (Deseeded), curry leaves and cilantro (As small as you can)
Take a bowl and add all the chopped pieces one by one
Add salt, pepper and cumin seeds and mix them very well till the water oozes out
Add 3 Eggs to the mixture, beat it well. Keep the mixture aside
Take a pan, heat 3 spoons of oil, empty the egg mixture into the pan, cover it with a lid
Through out the cooking, put the stove on low flame (Important). Let it cook for 2 mins, remove the lid, sprinkle red chilly flakes and grated fresh coconut powder, cover it again
Wait for another 2 mins, remove the lid, (if it is fluffy on the top), very very slowly flip the omelette upside down.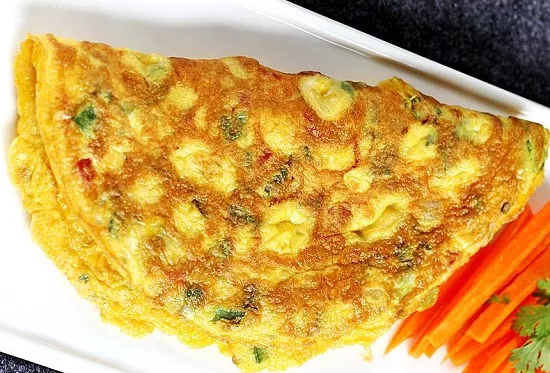 (Flip Technique: As Omelette is loaded with lot of veggies, you may find it difficult to flip without disturbing the shape. Cut them into 4 slices as how you cut Pizza, to make the flipping easy)
Wait for another 1 min, switch off the flame and your Omlette with goodness of veggies is ready to serve.
---
Also Read:
Tasty & Healthy Home-made Protein Powder
A Must Try Raw Mango Rice Recipe
Tasty & Healthy Sprout Recipes