Crypto banking solutions integrate conventional banking services with blockchain technology and cryptocurrencies. These solutions aim to give users digital access to various financial services such as deposits, loans, and payment processing. Crypto banking solutions offer a seamless, secure, and efficient way for individuals to manage their crypto assets while enjoying the advantages of traditional banking.
Significance of Crypto Banking Solutions in Today's World
The integration of crypto and banking is gaining increasing importance as cryptocurrencies are recognized as a legitimate asset class in the mainstream. Web3 banking solutions address several challenges that have previously impeded the widespread adoption of cryptocurrencies.
These challenges include:
Liquidity: Crypto banking solutions offer a safe and effective way to exchange cryptocurrencies for fiat money, making it simpler to use and manage crypto assets daily.
Security: Crypto banking systems provide a secure way to store and manage crypto assets, lowering the risks of fraud and hacking. They do this by leveraging decentralized ledgers and encryption algorithms.
Accessibility: Crypto banking solutions give consumers straightforward access to their crypto assets from anywhere in the world through Internet platforms and mobile applications.
Cost-effectiveness: Crypto banking solutions can provide reduced fees and quicker transactions than traditional banking, making them a more affordable choice for managing crypto assets.
What Is the Process of a Crypto Banking Solution?
Creating a financial institution that serves people and organizations dealing in digital assets like cryptocurrency is the first step in setting up a crypto bank. Crypto banks function differently than traditional banks and are created to satisfy the particular needs of the crypto community. Here is an explanation of how they operate:
Private Keys for the Users.
Transaction Initation
The Traffic on a Network
Public Keys for Trade.
Transaction Fees to Validate Transactions.
DeFi Platform for Customers to Borrow and Lending.
7 Innovative Crypto Banking Solutions: Let's Dive In
If you're searching for the best crypto-friendly banking solutions to join in 2023, you've come to the right place! The following list highlights some of the top crypto banking solution for cryptocurrency, covering a range of fields, including traditional banking, business banking, and personal accounts.
1. Revolut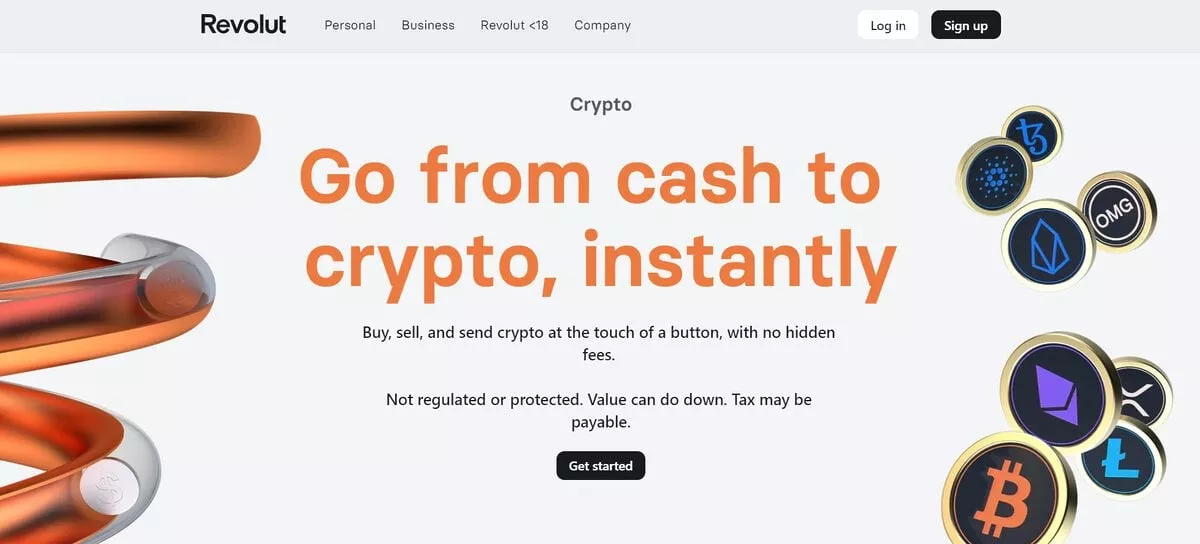 It's no surprise that Revolut tops the list. Since its launch in 2015, this online bank has pioneered modern financial services. Revolut's crypto offerings and support are equally impressive. The FDIC-insured platform supports over 50 cryptocurrencies, including popular coins like Bitcoin, Ethereum (ETH), and Solana (SOL). Users can easily send cryptocurrencies to other Revolut bank accounts and even delegate their Ether to third-party staking validators.
In eligible countries, customers can settle crypto bills with their credit cards. The Revolut mobile app automatically converts selected crypto assets to their market value in fiat currency for seamless payments.
But that's not all. Revolut's crypto card allows customers to purchase crypto and earn up to 1% cash back in any supported cryptocurrency. Additionally, Revolut plans to launch its crypto, Revcoin, later this year.
The only drawback of Revolut's crypto services is its expensive fees. Average users are charged a 1.99% fee for any crypto-related transactions.
Key Takeaways:
Supports trading of 50+ cryptocurrencies.
The crypto card enables spending with cashback rewards.
Provides delegated staking services.
Higher fees compared to other platforms.
2. Wirex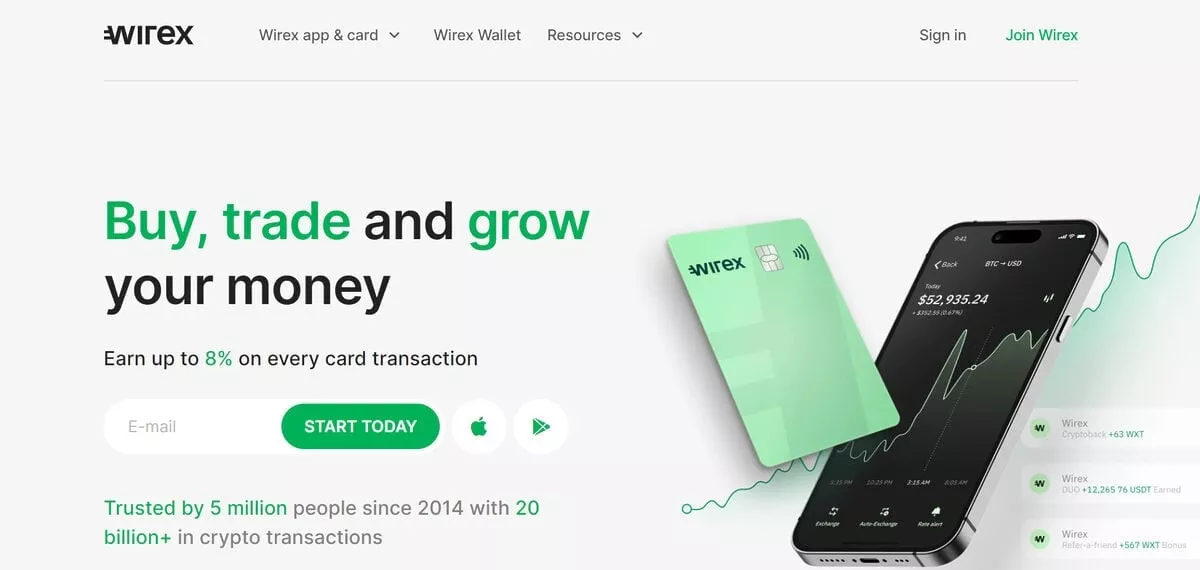 Wirex stands out among other contenders as it started its journey as a crypto bank right from the beginning. Offering a comprehensive range of crypto products and services, Wirex is not just a trading platform supporting over 37 digital currencies, but it also hosts a cross-chain bridge, allowing users to transfer tokens across different blockchain networks.
Wirex's crypto debit card offers significant advantages, including an impressive 8% cash back on purchases made with cryptocurrency. The platform also provides great staking services and a crypto wallet that supports NFTs (Non-Fungible Tokens) and enables users to interact with DeFi (Decentralized Finance) and dApps (decentralized applications).
Key Takeaways:
Takes cryptocurrency first when it comes to banking.
Includes a cross-chain bridge and a broad trading platform.
Provides top-notch cashback bonuses and staking services.
Supports interactions with dApps and NFTs.
Also Read: Getting a Loan With a Bad Credit Score: Strategies for Approval
3. Juno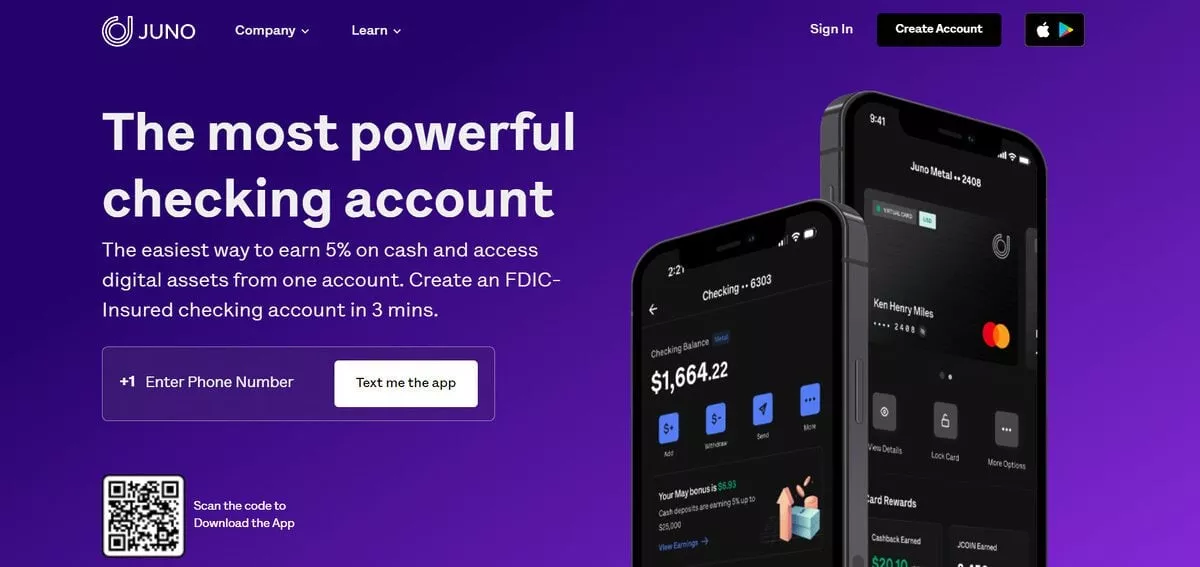 A fintech business called Juno promises to create a seamless checking account experience by fusing cryptocurrencies and conventional finance. Juno interacts with cryptocurrency wallets and serves as a bank account for fiat currencies like the U.S. dollar. Users can quickly connect their wallets to the Juno app and instantly move their cryptocurrency holdings to an FDIC-insured account.
The app supports numerous cryptoassets, including well-known stablecoins like USDC. On some blockchains, including Polygon, Arbitrum, and Optimism, users can fund their checking accounts with USDC.
Juno's capability to automatically convert a percentage of users' incoming salaries into cryptocurrency is one of its notable features.
Juno's crypto debit card also allows customers to make payments or withdraw cash from ATMs using digital assets, just like a regular card. Users can even earn up to 5% cash back on purchases.
Key Takeaways:
Enables smooth crypto-to-fiat and fiat-to-crypto transactions.
Offers automatic conversion of incoming payments into cryptocurrency.
Supports a wide variety of cryptocurrencies.
Allows spending of crypto with a dedicated debit card.
4. BankProv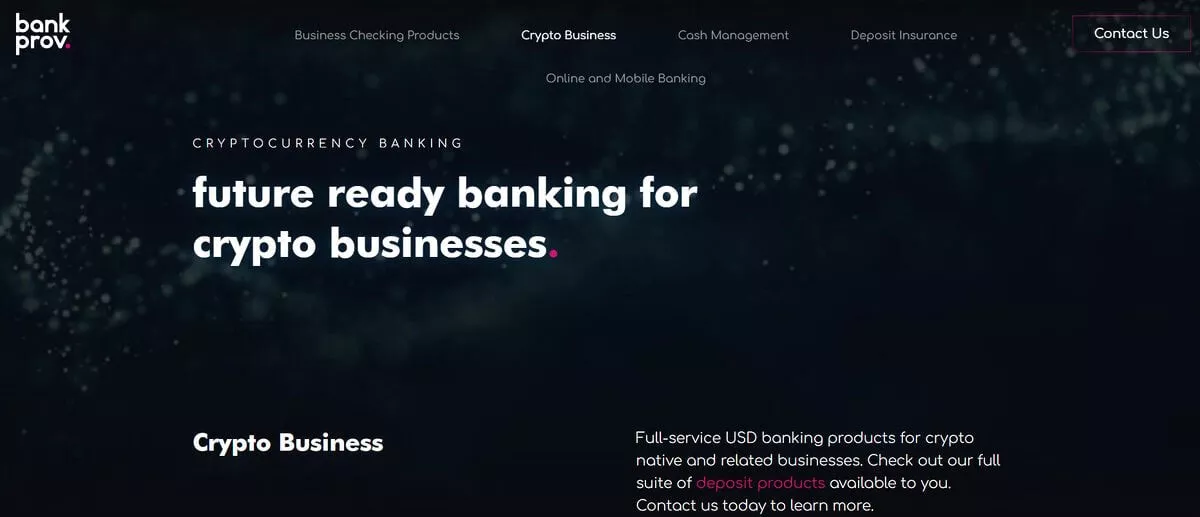 BankProv is an established U.S. bank with a history spanning over 200 years in traditional banking. Unlike many banks on this list primarily catering to personal users, BankProv focuses on strengthening and stabilizing crypto businesses.
Crypto startups find peace of mind by banking with BankProv, as all deposits are FDIC and DIF-insured, providing the necessary security for emerging businesses to pursue their ambitions. Another distinguishing factor is BankProv's comprehensive crypto-backed lending services, where account holders can lend their crypto assets to other traders and earn interest.
Moreover, BankProv offers an extensive suite of API tools, helping crypto businesses streamline their products and services.
Key Takeaways:
Ideal for blockchain-based businesses.
Supports cryptocurrency lending.
FDIC and DIF insure all deposits.
5. Ally Bank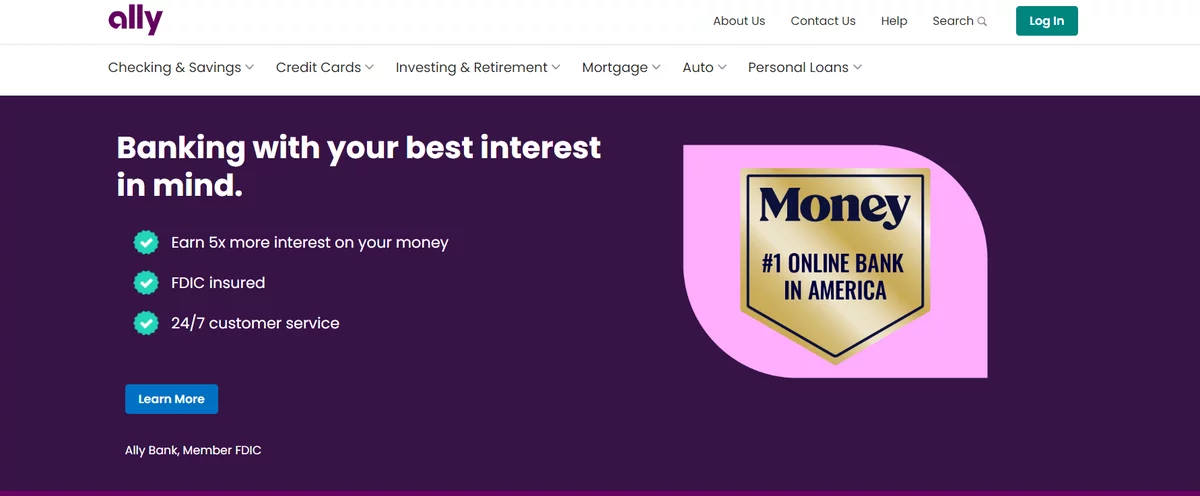 While Ally Bank doesn't directly offer cryptocurrency trading, it deserves recognition for its efforts in becoming crypto-friendly. Ally Bank allows customers to invest in crypto-exposure funds like the Grayscale Bitcoin Trust. Through its partnership with Coinbase, users can integrate their accounts with the popular crypto exchange, gaining access to Coinbase's intuitive trading platform and simplified off-ramp for crypto assets.
Key Takeaways:
Enables investment in hedge funds and companies with crypto exposure.
Integrates with Coinbase for seamless account integration.
Provides fast and compliant on/off-ramps for cryptocurrencies.
6. Quontic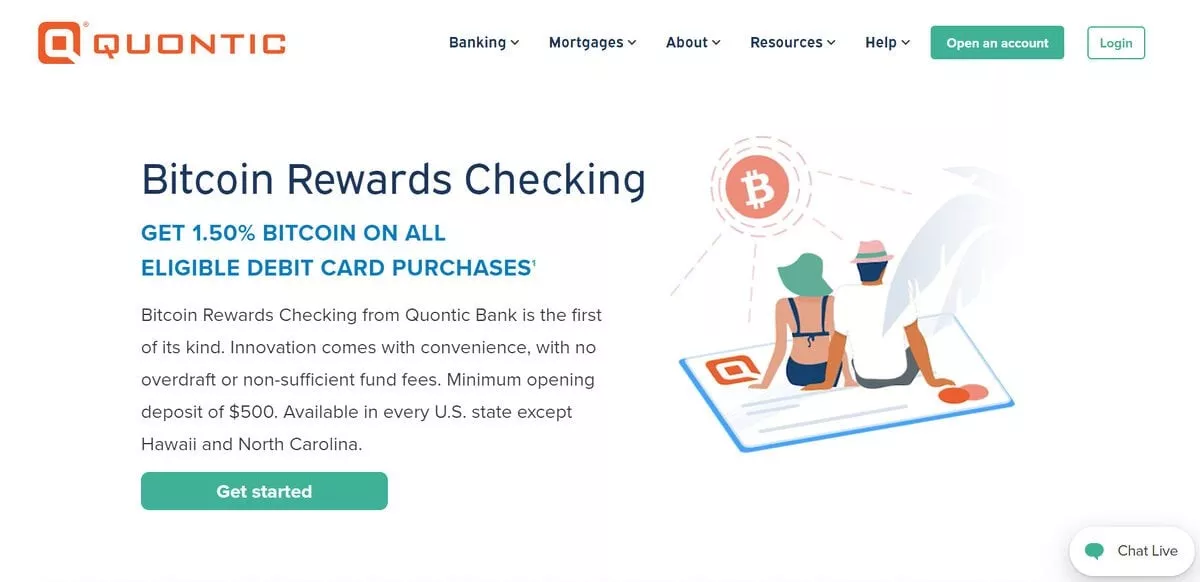 Quontic strikes a balance between being a traditional bank and a crypto-friendly institution. It offers all the services expected from a traditional bank, including home loans and savings accounts, while providing a Bitcoin rewards checking account.
Quontic's 1.5% cashback rate may seem modest compared to others on this list, but the cashback is paid in Bitcoin on all purchases, not just those made using cryptocurrency. This approach promotes sustainability and doesn't encourage users to spend their crypto holdings.
Key Takeaways:
Traditional bank with a focus on cryptocurrency.
Offers a wide range of traditional banking services.
Features a Bitcoin rewards checking account.
7. Robinhood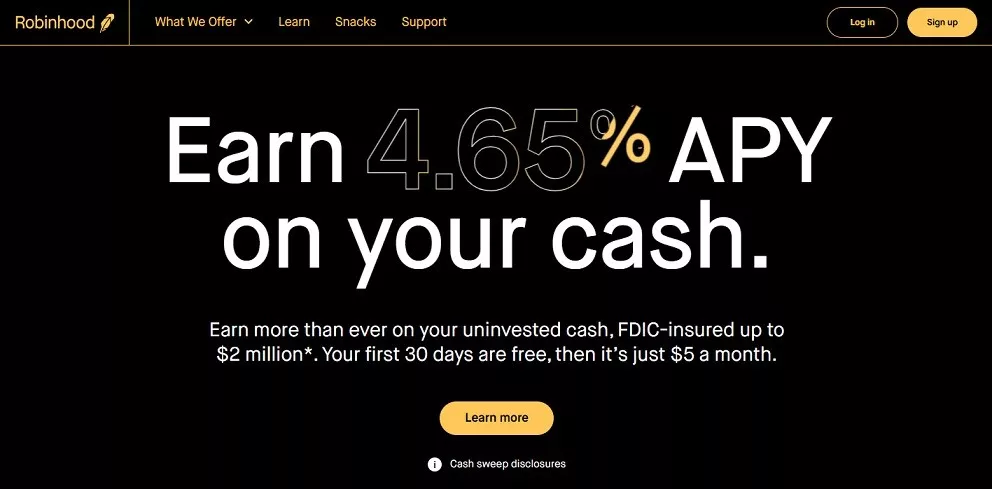 Although not a bank itself, Robinhood, a brokerage platform, is included on this list due to its cash deposits being FDIC-insured for up to $250,000. Robinhood is widely known for its user-friendly investment platform and accessibility to various financial instruments, including cryptocurrencies.
Key Takeaways:
Cash deposits at Robinhood are FDIC-insured.
Provides an easy-to-use investment platform.
Access to many financial instruments, including cryptocurrencies.
Final Takeaway
These advanced crypto banking options are among the best ones that will be offered to people and businesses in 2023. There is a solution to fit your demands, whether you need comprehensive trading capabilities, seamless interaction with conventional banking, or specific features like crypto incentives.
FAQs
Do all banks accept cryptocurrencies?
Only some banks take cryptocurrencies. Accounts with cryptocurrency-related transactions may be subject to limitations from some regular banks.
Why will my bank not let me purchase Bitcoin?
Banks are worried that Bitcoin and other cryptocurrencies might be used in fraudulent or unlawful activities.
Revolut: a cryptocurrency-friendly bank?
Yes, Revolut is regarded as one of the top institutions in the financial sector that accept cryptocurrencies.
Detection of cryptocurrencies by banks?
Yes, bitcoin transactions are made to be traceable and verified by the public.
Marco Shira, a skilled content writer specializes in software development, enterprise blockchain, Artificial Intillegence, IT conslting services and many more topics. With a fervor for writing, a tech enthusiast, and an avid reader, he crafts captivating content. I have always created unique and quality content that entertains users.