What should you look for in your credit report? A credit report is published by the credit bureaus after taking into consideration various financial factors like repayment history, debt amount, credit inquiries, etc. It is good to look at your credit report to know your creditworthiness, but it is also important that you pay close attention to the content of the credit report. Let us look at the factors you should be monitoring in your credit report.
Things to look for in Your Credit Report
Credit Score

– The most important thing to note in the credit report is your

credit score.

Is it good enough and shows you as a creditworthy borrower? A score between 750-900 is a good score. A score lower than 750 needs attention and measures should be taken to make it better.
Name, address, and phone number

– Double check the report to make sure your personal details like name, phone number, and address are correct.
Birth date

– Check if your birth date is mentioned correctly. 
Identity card details

– Check if the details of your Aadhaar card, Pan card, Passport, etc., are correct.
Employment information

– Check if your employer details are correct, If you have changed your job, make sure the new employment details are reflected correctly.
Spouse or co-applicant name

 
Incorrect payment history

– Wrong payment history can have a big impact on your credit report and score. Make sure your payment history is correctly accounted for.
Incorrect status of the account

– Make sure the status of your account is marked correctly as open or closed. 
Credit account ownership –

Make sure all the credit accounts mentioned belong to you. Any unrecognized credit account should immediately be removed.
Credit limit and balances

– It is important to check that your credit limit and balances are mentioned accurately.
Make sure no one is inquiring about your credit report without your authorization or knowledge. It is important because some people might ask for your report and use it for fraudulent purposes.
Also check how many inquiries made by you the credit report shows. Too many inquiries negatively impact the credit score and hence it should be the right number.
Wrongly filed bankruptcy

– A bankruptcy on your account has an extremely negative impact on your creditworthiness. Make sure you aren't a part of any that you weren't responsible for.
Legal cases

– Similar to bankruptcy, it is absolutely necessary that no unrecognized legal cases show on your account.
Errors in reporting by the lender
Check that the payment history is correctly reported by the lender
Check that the outstanding amount of loans and

credit cards

is reflected correctly.
How to check your credit report?

It is very easy to check your credit report. You can check it online as well. The 4 RBI-approved credit bureaus in India are – CIBILTM, Experian, Equifax, and CRIF Highmark. You can visit the official website and request a report. They also have different subscription options, making it easy for you to receive your credit report regularly. Below is a table of charges levied by each of them
 

 

Unlimited access to the credit report

 

First report

1 month

3 months

6 months

12 months

CIBILTM

Free

Rs. 550

– 

Rs. 800

Rs. 1200

Equifax

Free

Rs. 250

Rs. 450

– 

Rs. 900

Experian

Free

NA

NA

NA

NA

CRIF Highmark

Free

NA

NA

NA

NA
Dispute Resolution Process
In case you find irregularities and incorrect data in your credit report, it is very important to correct it immediately. The data in the credit report determines your credit score. The credit score is looked at by many banks and NBFCs before they take the final lending decision. Hence, it is imperative to reach out to the credit bureau immediately. 
Credit Report Dispute Resolution Process
Take a look at your credit report carefully and note down all the mistakes.

Get in touch with the credit bureau that issued the report. 

You could write an email to them mentioning all the errors.

Fill up the dispute for, review, and submit

You should hear from the credit bureau about the next steps

Review the changes 

Make sure the changes are updated in the latest credit report
Benefits of Monitoring your Credit Report
Monitoring the credit report should be taken as seriously as financial planning. Since the credit report is viewed by most lenders, your entire financial planning is actually dependent on how good your credit report and score are. Below are some of the benefits you will reap by monitoring your credit report.
Avoid erroneous reports

– Reports with errors can adversely affect your credit score. By monitoring, you can get the errors corrected.
Better credit score

– By resolving disputes and mistakes, your credit score will come up as the errors pulling your score down are no longer there.
Insight into your financial health

– A credit report is a summary of your credit status and health. By taking a look at your credit report, you may get ideas to make it better. An e.g., could be to pay off a high-interest debt by taking a low-interest debt.
Easy approval of loans

– An error-free report will give you a better credit score. A good credit score can fasten the process of loan approvals which means easy access to funds.
How to Keep Your Credit Report Clean?
Keeping your credit report clean sounds cumbersome and complicated. Well, it's not. The below diagram explains the whole process in 4 simple steps.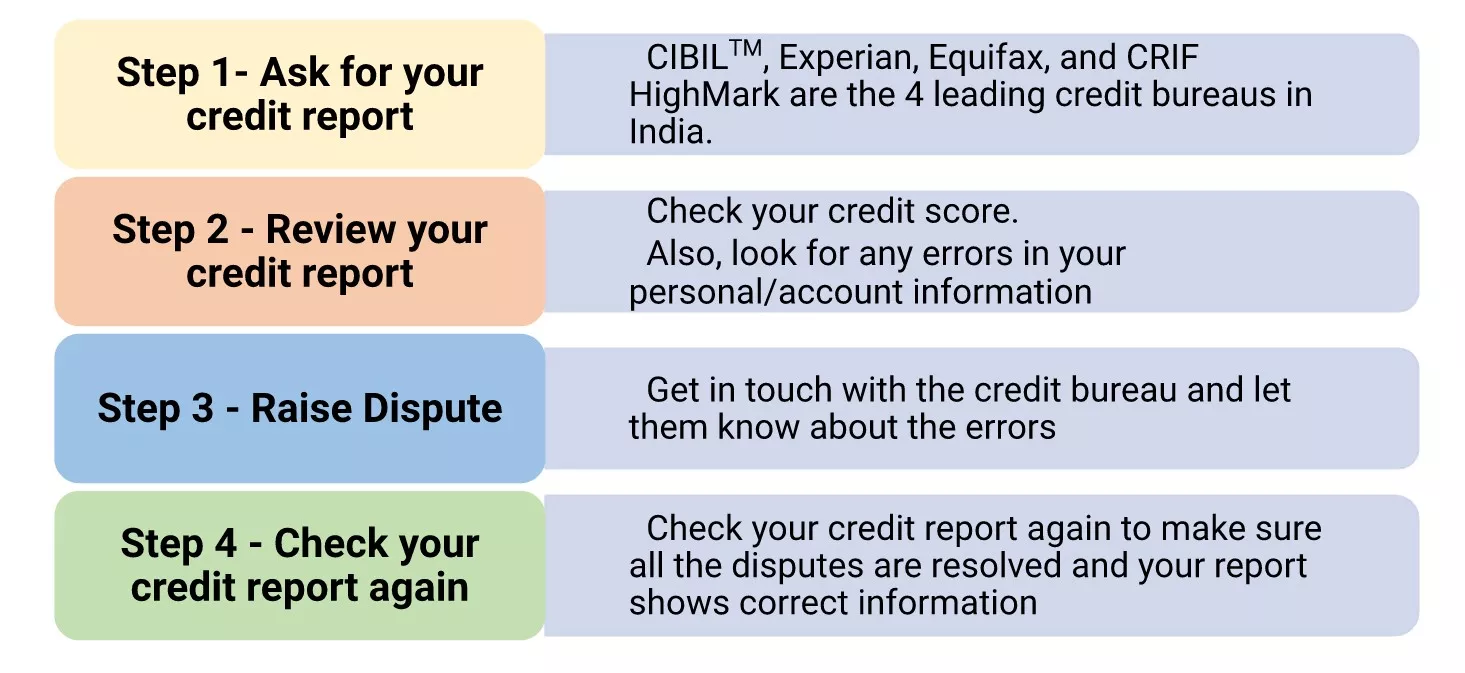 Conclusion
There are many factors that you should be looking for in your credit report like personal information, accounts, credit score, inquiries, errors, and public records. It is essential that any errors should be immediately reported and resolved. Keeping a track of your credit report also lets you better analyze your financial health and what you should do to make it better.
As the driving force behind WikiPluck, I am dedicated to curating and sharing insightful knowledge across a spectrum of subjects. From technology trends to Business advice, WikiPluck strives to be a go-to resource for those seeking to enhance their understanding and make informed decisions.
Join me on this journey of discovery and enlightenment as we pluck the gems of wisdom from the vast landscape of knowledge.