In today's digital age, photos play a vital role in our personal and professional lives. However, capturing the perfect shot with a suitable background is challenging for many.  This is why we often need to change the background from an image to make it more appealing or remove it completely for use in a different context. 
While this task may seem daunting, technological advancements have introduced several photo background removal tools to ease the process. With the help of these tools, you no longer require the assistance of a professional to remove backgrounds from images. In fact, most of these tools are automated and eliminate the need for human manipulation altogether.
In this article, let's look at the best photo background remover tools you can use to enhance your images. 
Background Remover Tools in 2023
The below-mentioned tools have been selected based on criteria that include ease of use, the accuracy of results, customization options, availability of features, and processing speed. Read on to discover the best photo background remover tools in 2023.
BG Remover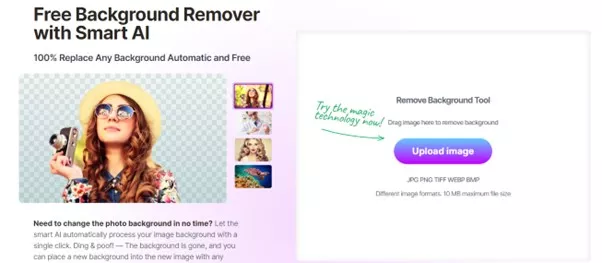 BG Remover is a fantastic tool, allowing you to remove the background from any image in 8 seconds. Yes, it only takes 8 seconds to get a clear background after you upload your image. 
Moreover, the tool is powered by AI algorithms that automatically determine the picture's subject and extract it from the existing background. Once the subject is separated, you can easily add a different background or leave it transparent.
Also Read: How to Unleash Your Style with These Top 5 Clothing Brands
BG Remover is a web-based tool and is simple to use. You don't need any prior photo editing experience to use it. All you need to do is upload the image you want to edit, and the tool will automatically take care of the rest. 
The tool is free for the first 3 background removals. It accepts all major image formats.
Pros: 
The tool is easy to use.

It offers 100% accurate output.

The customization options are helpful for users who need to make minor image adjustments.
Cons:
Free service is only for 3 pictures. 
InPixio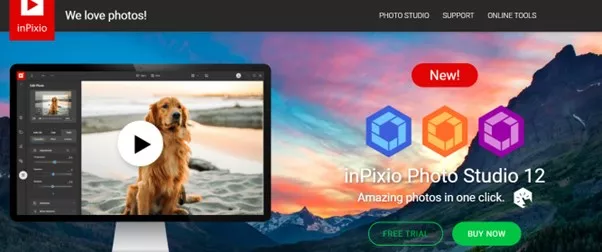 InPixio offers a versatile background remover that uses AI algorithms to erase unwanted objects and backgrounds. It also provides retouching tools for detailed background selection. 
The free version is seamless and offers options to save your edited photo as a JPG file with a white background. It also gives you the option to place it on preset background images. If you are not satisfied with the output, an option to manually adjust the background is available as well. 
With InPixio, it is possible to save and upload photos without any limits. However, a yearly subscription is required to access other photo editing tools. 
Pros:
Has retouching tools for selecting backgrounds.

Various Photo editing tools to enhance your images.
Cons
May need several attempts or manual interpretation to obtain the best results.

Payment is required to gain full access to the tool.
Clipping Magic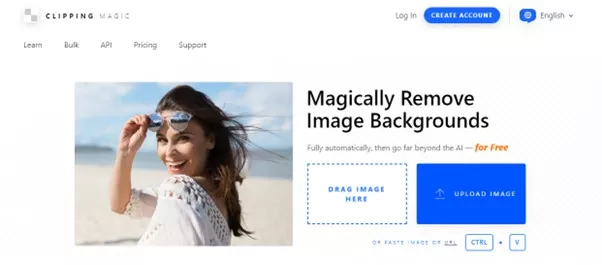 Clipping Magic is a feature-rich background remover tool that uses advanced AI algorithms to achieve highly accurate results. With Clipping Magic, you can easily remove unwanted backgrounds and make precise selections—all thanks to its simple interface and intuitive controls. 

The tool also offers a range of customization options, including the ability to adjust the background color and image resizing. One of the standout features of Clipping Magic is its ability to produce high-quality results even when working with complex images. 
Pros:
Easy to navigate interface. 

Clipping Magic produces high-quality output with clean, crisp edges.
Cons:
Free version comes with watermark images. 

Support doesn't always respond back.
Remove.Bg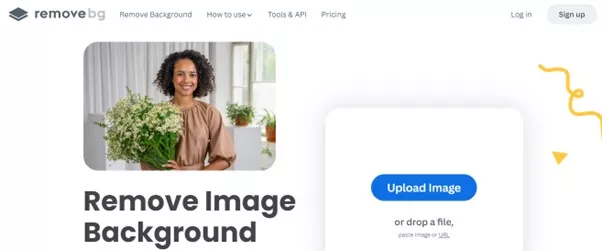 Remove.Bg is a cutting-edge web-based tool that uses advanced artificial intelligence algorithms to remove backgrounds from images. The tool supports a wide range of image formats and boasts an interface that makes it easy to use for everyone. 
Also Read: How to recover photos on Google Photos
Simply upload your image to the website, and remove.bg's savvy algorithms will do the rest, delivering a clean and professional-looking image in seconds. If you're searching for a fast, reliable, and easy-to-use background remover tool, remove.bg is worth checking out.
Pros: 
The software produces high-quality results.

The processing speed is fast.
Cons:
The platform has an unclear pricing structure.
Bg.Eraser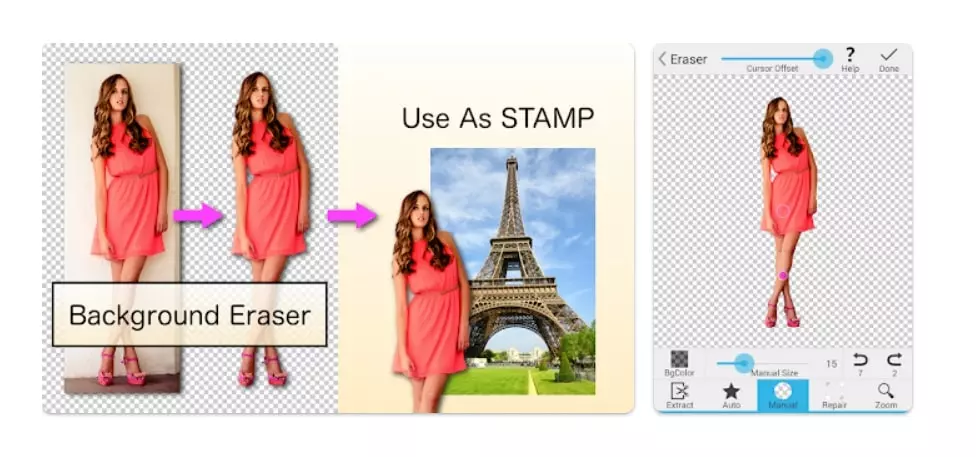 Background Eraser is a fantastic Android-based app focused solely on removing the background from your photos. Backgrounds can be removed in three ways – auto, magic, and manual – making it an ideal app for beginners and professionals.
With the auto-removal feature, the tool will edit the pixels similar to the ones you've selected, while the magic tool acts like a wand and estimates based on your selections. The manual tool offers you with full control over the picture and is perfect for intricate backgrounds. 
The main focus on Background Eraser is on background removal. Basic editing tools are also available. However, you'll need to download other apps to turn your images into marketing materials or add overlays.
Pros:
Easy to use.

Equipped with different background removal options.
Cons:
You only get 5 free bg removals for free.
Removal. Ai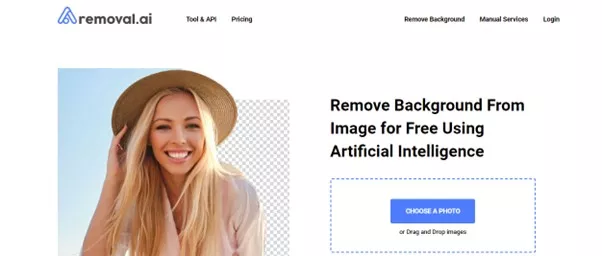 Removal.ai is a powerful tool that utilizes advanced artificial intelligence technology to quickly and accurately remove backgrounds from images. The AI system is designed to identify the background and remove it, leaving only the subject in the foreground. 

One of the biggest advantages of this tool is the ability to export images in different social media-friendly dimensions. Additionally, you can download high-quality versions of different image sizes to meet your specific needs.
However, one drawback is that there's no real way to touch up what the AI has decided for the background. This means that the accuracy of the background removal may be affected if the photo uploaded is not clear enough. Generally, solid color backgrounds and simple foregrounds work best with this app.
Pros: 
Automatic background removal.

Social media-friendly dimensions for exporting images.

High-quality image sizes are available for download.
Cons:
Slow processing speed as compared to other tools.
PicMonkey

PicMonkey is an online photo editor with a wide range of features specifically designed for editing product photos taken on a smartphone. With automatic cloud storage, everything is saved automatically, enabling you to access it from any device. 

PicMonkey offers automatic and manual background removal options, along with various photo editing tools and templates for collages and banners. While PicMonkey can be used for free, most of its features are only available with a subscription.
For instance, you'll need to pay for an annual subscription to download the image you've been working on. 
PicMonkey offers built-in tutorials and a resource center to help you with editing. 
Pros:
Automatic cloud storage.

Helpful resources are available to help enhance pictures with more efficiency. 
Cons:
The platform has less number of templates as compared to other online editors.
Cutout. pro

This online tool allows you to remove backgrounds in both images and videos automatically. You can also add your images and videos onto any background, creating unique marketing content for your projects. 

But that's not all. Cutout.Pro also offers various editing features, including image cropping and text adding, that can help you tailor your content for different social media platforms. With its user-friendly interface and quick processing times, Cutout.Pro makes all your editing convenient and quick. 
Pros:
Powerful background removal tool for videos.

Free to use.
Cons:
There are several file size limitations.
Wrapping Up
As you can see, many image background removers are available today with different features, capabilities, and price points. Depending on your need and skill level, each of these tools can be used to produce professional-looking images without spending a dime. So take your time and pick whatever works best for you. 
Frequently Asked Questions
What does the background removal tool do?
The background removal tool lets you clear the background of any image so you can change the background or use the image for various purposes such as posters, logos, etc.
How do I remove unwanted background images?
To remove unwanted background images, you can use image editing tools like BG Remover, which can help you quickly and easily remove the background of an image. 
What is an effective method for removing the background of an image?
The most convenient and effective way to remove a background from a picture is by using AI-powered background removal tools. These can do your job within seconds through automatic methods. 
Can I remove the background in Canva?
Yes, Canva Pro has a background remover tool that removes the background of an image in just a few clicks.
Is Lightroom free?
Adobe Lightroom is not entirely free, but it does offer a free trial period. However, Adobe also offers a Lightroom mobile app that is free to download and use on your mobile device. 
Ivy Attie is a researcher and author for different visual media publications. She advocates for the power of visual imagery and strives to solve marketers' challenges through this medium. Ivy is passionate about creating engaging content that captures the essence of her client's brands. 
She enjoys exploring literature and immersing herself in the performing arts when she isn't working. Her diverse range of interests and talents make her a valuable asset to any project she undertakes.