Every operating system is exposed to quite common errors, especially when downloading applications that bring endless information with them. On Android, it is completely normal for performance to slow down over time, especially due to advertising in browser tabs or in applications. This time we will teach you how to disable Android ads.
Overwhelming advertising
Sometimes the constant pop-up windows in both applications and browsers become a headache, plagued with advertisements from other apps and other similar articles. In addition, this causes the performance of the mobile device to become increasingly slow, preventing you from using it normally. It is quite an uncomfortable problem, especially for those who need a fast cell phone.
It is completely normal to be fed up with advertising, because it always appears at the least indicated moments. Unfortunately, when an app or a website is free, they make money from the ads. Fortunately, there is a way to disable Android ads without any inconvenience or particularly complicated procedures. Here we will teach you how to do it.
Trick to disable Android ads
There are many important aspects behind advertising. For example, you cannot simply disable Android ads left and right, but for each sector there is a different solution, in this case we will provide you with ways to solve this annoying problem in an appropriate way.
For browsers
Browser pop-ups, also known as Pops ups, are particularly annoying. In Chrome it is an annoying problem because it plagues you with junk tabs that also consume the performance of your mobile device. Luckily, there is a way to fix it.
The first thing you should do is enter the browser and click on the three dots symbol in the upper right corner. Then, you go to "settings" and then "website settings". Just look for the pop-up option and disable it. Too easy!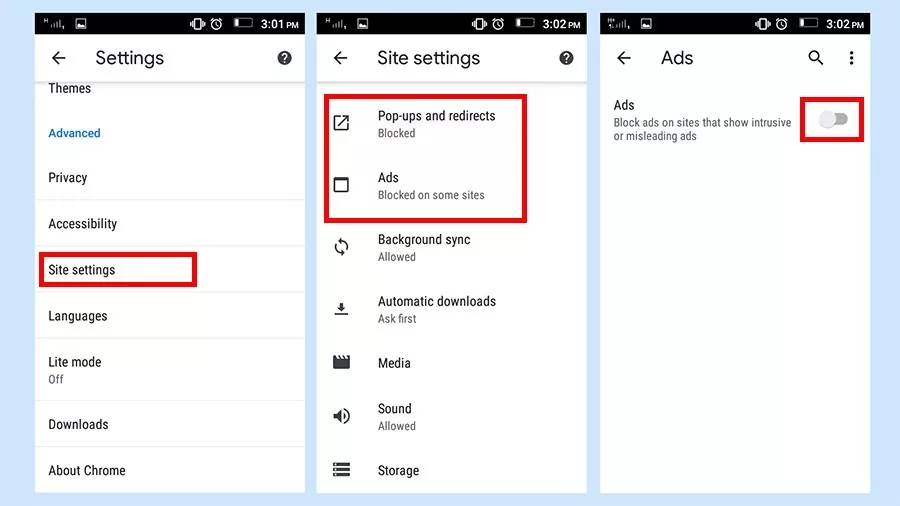 With external tools
If you've tried everything, but nothing has worked, then you can turn to external blockers that can make the task easier. They are very similar to the blocking extensions that are placed in browsers and are very easy to use. Best of all, there is a huge variety that you can choose from.
The most recommended are:
AdBlock Browser
Adguard
Ghostery
All of them are available in the Google Plays Store, their weight is quite acceptable and they are really functional to deactivate Android ads.
Choose the best option
It is completely natural to be frustrated by the constant pop-up ads that come out, both in applications and in browser windows. However, the solutions are very close to you and you can apply it immediately so that you never have to deal with annoying advertising again. You will prevent your mobile from slowing down and you will be able to enjoy its maximum performance for much longer.
Now that you know how to disable Android ads, the best thing you can do is apply each of these tricks. You will see that they will work perfectly for you!
As the driving force behind WikiPluck, I am dedicated to curating and sharing insightful knowledge across a spectrum of subjects. From technology trends to Business advice, WikiPluck strives to be a go-to resource for those seeking to enhance their understanding and make informed decisions.
Join me on this journey of discovery and enlightenment as we pluck the gems of wisdom from the vast landscape of knowledge.