After spending hours writing an Email, we accidentally send wrong information to a right person or right information to a wrong person. Or we may miss adding some important attachment or sometimes we may even do silly spelling or grammar mistakes and realize it little late. Then we search for that one option to undo our act of awkwardness. The situation may look desperate, but with proper Email management techniques, we can save ourselves. In this article, let's look at some email management techniques on how to unsend an Email sent by any Email Service Provider.
Unsend an Email in Gmail, Yahoo & Outlook
Email providers like Gmail & Outlook have already added the option to unsend emails. But the option is available for only few seconds within which the sender is required to be aware of his mistake; if not, it's Gone. So, you should know how to unsend an Email with your email service provider, well before you actually need to unsend one. Here are some EMail management techniques everyone should know.
Unsend an Email in Gmail
Once you send an email, along with "Message sent" pop up , UNDO & View message options appear at the bottom left corner. You have got exactly 5 seconds to recall/undo. If you are late, it's GONE.

However, you can set the cancellation period
On your desktop, go to Gmail.
In the top right corner, click on Settings.
Next to "Undo Send," option, set a Send cancellation period of 5, 10, 20, or 30 seconds. Setting 30 seconds is ideal.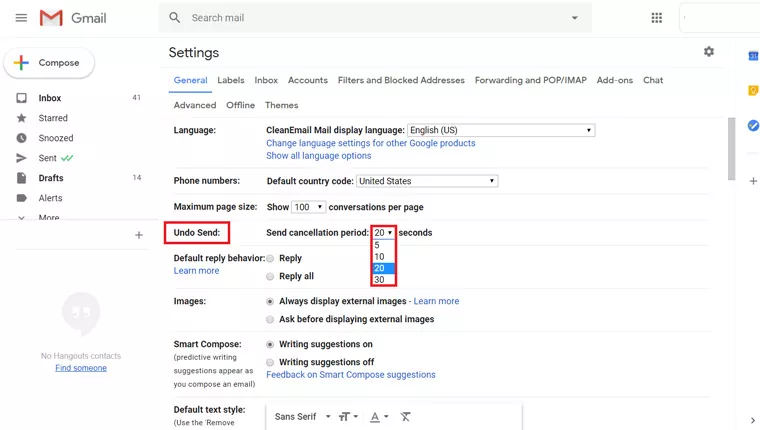 If you realize about your mistake after an hour or a day, the only thing Gmail can do is to ask you to proof read attachments regarding the future emails.
Unsend an Email in Outlook
Right after you click on "Send", You will see a Message saying " Sending….." and "Undo" next to it.
Click on "Undo"
For "Undo" option to be available in Outlook, you need to enable it in the Settings before.
Here is the setting process;
Select the gear icon in the top right corner
Click on "View all account settings"
Click on "Mail" > "Compose and Reply"> "Undo Send"
Under "Undo Send", choose the time you want Outlook to wait to send your messages. The Maximum time you can set is 10 Seconds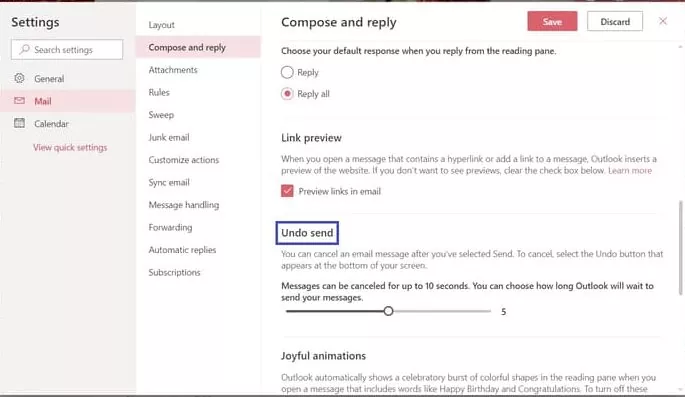 Recalling a Message in Outlook
Another interesting feature in Microsoft Outlook is, either you can recall a message or replace it with a replacement message. For this, both you and your recipient must use Office 365 or Microsoft Exchange email in the same organisation. However, It depends on your luck. It works only when the recipient hasn't read your email yet (Check the Read status of the Mail first)
To recall or replace a message in Outlook
1: Choose the Sent Items folder
2: Open message in a separate window.
3: From Message tab, select >Actions >Recall this Message

4: Select Delete unread copies of this message or Delete unread copies and replace with a new message, and then click OK.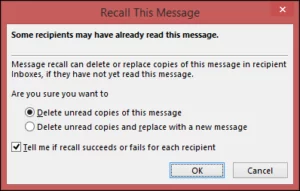 Unsend an Email In Yahoo
Yahoo doesn't have the facility of Email recalling. Once you send an email, recipient will get it anyway and sender can't undo it. Some other Email providers that don't have Undo feature are Zoho Mail, Yandex, Mail.com, Inbox, iCloud, AOL etc. If you are using any of these email service providers, still you can Unsend emails when you send them through third party email service providers like Mailbird and Spark
How to Unsend an Email with any Email Service Provider
If your Email service provider doesn't natively provide unsend feature, several third party service providers are there to save you from faux pas like Mailbird and Spark.
Mailbird  is one of such service providers. It is an ultra customizable email client for Windows. It is an excellent service for people who would like to manage multiple inboxes from one place.
Unsend an Email with Mailbird:
Click on "Hamburger Menu" and select Settings
Choose Composing and scroll down to Sending
Choose Undo Send period by dragging the slider to the right. The maximum time Mailbird will give you to unsend a message is 30 Seconds
Next time, when you send a message, a "Sending…" pop-up along with "Undo" will be seen.
Unsend an Email with Spark:
While Mailbird works only with Windows; Sparkworks on Windows, macOC & iOS.
To Unsend an Email on macOS, Click on Undo, appears right at the bottom of the inbox after sending an email. You have exactly 5 seconds to Undo
(Short cut key to Unsend on macOS : Cmd ⌘ + Z)
To Unsend on Android or iOS version of Spark, click on Undo at the bottom of the screen.
Undo feature of an Email is a real life saver. Service providers like Gmail and Outlook are already leading the way by giving Undo feature. If your email service provider is not having that feature, Mailbird and Spark are your savers.
"UNDO"- Saves you from Faux Pas. Happy Emailing…!!!